Vet software designed for you
Appreciate Shepherd's attractive design and intuitive interface. It doesn't just look good—we specially designed Shepherd Veterinary Software to match how you process patients and work throughout your shift.
Intuitive SOAP-based medical records

Practical high-level dashboard with critical info and patient statuses
Automation tools you'll love
Enter a patient's information once and let our robust automation tools take over! Save time, eliminate duplicate steps, and ensure charge capture for accurate invoices – minimizing the chance for human error and ensuring consistent care.
Streamlined invoices, calculated doses, discharge instructions, future treatment reminders

Automated tasks linked to products and services, including follow-up calls and room sterilization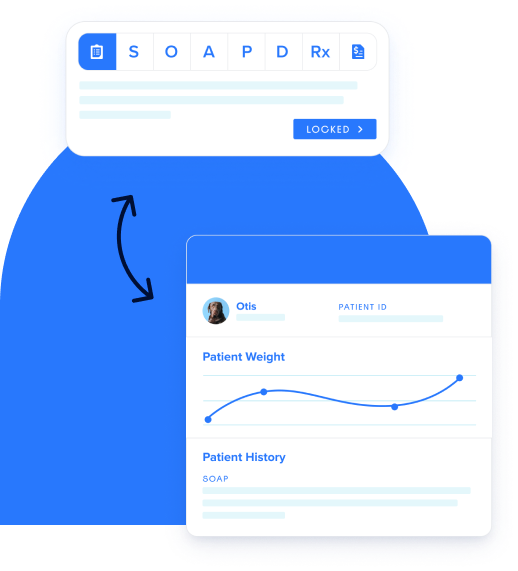 SOAP medical record workflow
Medical records so simple and efficient they get completed during the visit. Shepherd software works the way your vet practice naturally operates - so you can spend more time caring for animals.
Completing your SOAP automatically updates the medical record and invoice, and generates discharge instructions

We're in your corner — literally! Just chat us from the right-hand corner of your software
Client communication
Meet your clients where they are without leaving your software. Our Messaging Center and pet portal reduce front desk stress and streamline communication across your clinic.
Clients request appointments and Rx refills, view medical history, and access vaccine certificates in the pet portal

Tie reminders to any product/treatment to automatically add them to the queue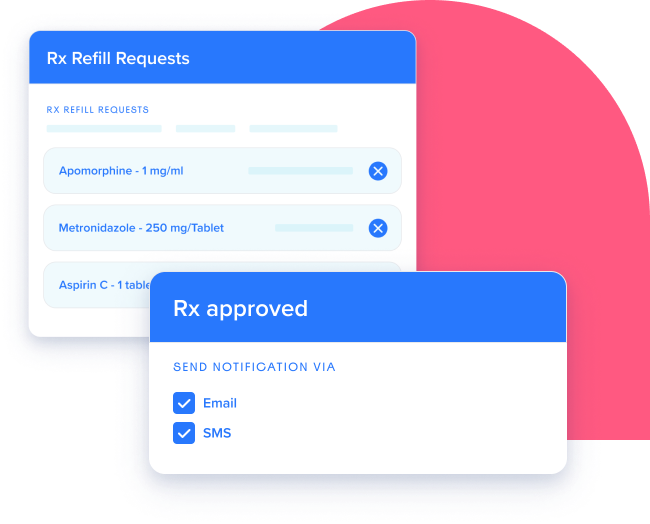 Practice management perks
Charge capture
If it's in the medical record, it's on the invoice
Captures even the small charges

Increases your bottom line
Detailed reporting
Track the health of your practice with easy-to-generate, detailed reports for everything you need
Automatic end-of-day reporting, commissions, treatments, patients, and inactive clients

Accurate reporting for administration and compliance
Inventory tracking
Effortlessly track with automatic updates after product administration - so you know when to schedule re-orders
Trackable treatments, prescriptions, PPE, medical supplies, and sellable items
Shepherd Pay
Payment processing right inside your PIMS. Collect payments securely from any of our easy-to-use payment methods
USB terminal

Store credit cards

Online pet portal
Veterinary workflow tools
Digital whiteboard
Provides an at-a-glance view of current treatments
Easy to sort, search, and filter

One click to open a patient's record for fast treatment administration
Patient scheduling
Intuitive new-patient scheduling — quickly create patient profiles from the appointment request
Customizable appointment types tied to provider availability

Blocked provider time slots for non-patient activities
Staff communication
All staff can tag one another to communicate regarding important tasks
Sends users a notification on their profile

Navigate directly to the client/patient/SOAP from your notification
Streamlined medical care
Dashboard
Real-time transparency into what's happening at your practice
Clear layout shows patients' SOAP status and location

View patients currently in the practice and which doctor they are seeing

Doctors easily view upcoming appointments and pending lab work and pet portal requests
Comprehensive SOAP medical records
A medical record layout you'll love
Vital comparison chart

Basic patient information always visible in record

Clear view of medical and prescription history
Customizable forms
Efficiently create, edit, and send out to clients
Send via email or link

Links can be directly opened and used for in-hospital form entry

Trackable responses and statuses
Easy Estimates
Communicate costs simply and with confidence
Can be created inside and outside a patient's record

Quick to add to a patient's treatment plan

Easy client approval - whether curbside or in-person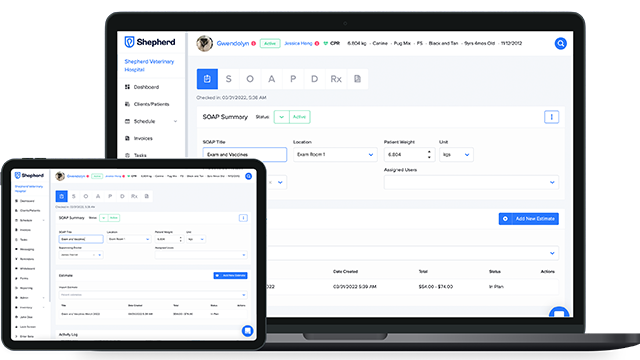 Cloud based software works where you do
Because Shepherd runs in the cloud, you're not tethered to Earth (or your desk). With Shepherd, you can access your vet software from anywhere on a desktop or tablet.
More Shepherd features to love
Complete activity logs
Know which user made changes and when for every action within Shepherd.
Autosave
Never lose updates to a patient record.
Built-in templates
Multiple fully customizable templates are included to suit your practice's needs.
Patient health tracking
Track patients' weight and chronic diseases for consistent continued care.
Customer care
Your Shepherd support team consists of qualified, clinically trained professionals available from the screen you're working on.
The software is pretty easy, and the support online has been awesome!!
The SOAPs are so easy and straightforward. Everything is laid out well, flows very well, and is how we would fill it out on paper. It's also great finding files when you want them!
You guys are the best with customer service!
Your software subscription always includes
Unlimited users

Migration + ongoing support

Expert help & training
No migration fees

No training fees

No charges for extra features